Last year, I read "The Wind in the Willows" as my Lent Book.
This year, I have decided upon the whimsical Brambly Hedge Series written and illustrated by Jill Barklem. A friend has lent them to me; I'm not sure what started the topic of conversation as we ate cake and drank tea, but the result was
"Have you NEVER read any of the Brambly Hedge Books? Here, let me lend you mine!"
This week I read the first in the series, Spring Story. I think this may be my favourite illustration;
How idyllic! It is Mr and Mrs Apple's house. She has been woken up early and is making breakfast in the kitchen. Mr Apple is supposed to be still in bed, but I can't see him. Is he in the bath, perhaps? I can't quite make it out.
I think what I took from the first book is the sense of community. They all live close together, and store all their food in The Stump Store, which is looked after by Mr Apple. This is a sawn-off stump of a tree, with a little door, and is full of chambers and store cupboards. Mr Apple's job is to check through everything every day, presumably to make sure that everything is keeping well, and nothing is going "off".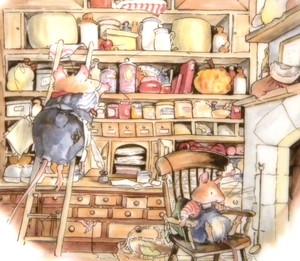 Mr Apple and Wilf in the Stump Store
When it is decided to have a village pic-nic, everyone joins in - the women-folk start baking and making and packing, and then the men help with the carrying all the baskets and rugs and so forth.
How easy life seems - how everyone gets on so well, how happy everyone is - apart from young Wilf, but he is only sad and grumpy for a page or two, and who wouldn't be, having to struggle with such a large pic-nic basket on one's birthday of all days?
Will it be like this forever?
Psalm 133
Behold, how good and pleasant it is
when brothers dwell in unity!
It is like the precious oil on the head,
running down the beard,
on the beard of Aaron,
running down the collar of his robes!
It is like the dew of Hermon,
which falls on the mountains of Zion!
For there the Lord has commanded the blessing ,
life for evermore.