This was a bit of a treat in many ways. We collected a ready-made picnic (thank you, Waitrose, for making our sandwiches) and set off.
'Have we been here before'
'No, never, at least I don't recognise these roads... er, or maybe I do?'
Yes, we had tried to visit the Sculpture Park last year, but found the place was mobbed by visitors and we couldn't park within half a mile. This time we were much more fortunate.
This griffin looks s though he means business - I'm not sure he is really as fierce as he is pretending to be...
This little bear, made by a 6-year old, is not for sale!
These sculptures are harder to spot - a number of highly polished pyramids set in a clearing.
There were a number of skeletons around the place - this one is actually doing some work, others were just messing around, riding penny farthings as so on.
I look quite stylish, wearing a hat...
This was perhaps the highlight of the whole trip...
let me zoom in...
A lizard, about 9 inches long, looking like a fully articulated Faberge creation, beautifully iridescent, slipping across the log and in and out of the bits and pieces on the woodland floor. We looked it up - an incredibly rare sand lizard, and the heathlands on the Surrey Hills is one of the few places it can be found. The sculptures will be there tomorrow and next year, but I don't expect I'll ever see a sand lizard again.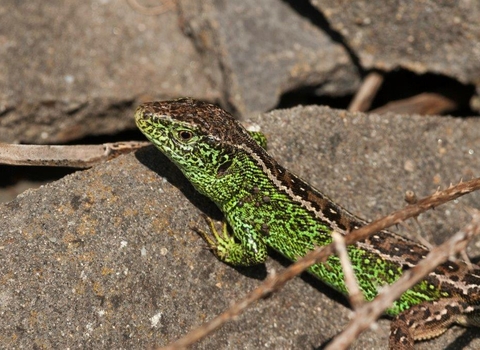 This picture above is from
https://www.wildlifetrusts.org/wildlife-explorer/reptiles/sand-lizard
- it looked Exactly Like This. That's a Huge Big Wow.