All this week I have been obsessed with developing my "junk" samba kit. It is ready for use now - just as well, as it gets its first school trial tomorrow with two year 4 classes. More on the samba kit in another post...
Why do drums energise me? Why do I get so excited at the sound of drums - marching drums, djembes, bodruans, samba, taiko?
I came across this sound clip
http://neuropoetry.tumblr.com/post/10575321089/a-recording-of-a-semantron-calling-monastics-to
thanks to a link to this blog below from a retweet of a tweet. It's not a blog I have looked at before, but that's one of the joys of twitter
http://alastairadversaria.wordpress.com/2012/07/08/links-and-jottings-2/
and I include the link just to acknowledge the source.
Here is the wikipedia link to find out more about the instrument that made that extrodinary sound, called a semantron:
http://en.wikipedia.org/wiki/Semantron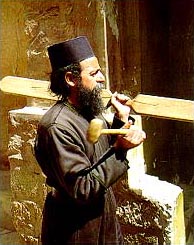 I found this picture at
http://russianbells.com/history/history2.html
which gives an idea of how the sound was produced.
And here are some YouTube links
http://www.youtube.com/watch?v=7JRvJAIr7Vc&feature=related
http://www.youtube.com/watch?v=zS4ZOQAnpzI
It makes me wonder about the connection between rhythm and soul and spirit - all words with musical meaning, but also with religious connotations.
All the children that I have worked with over three years of teaching djembe and samba have totally bought into the group satisfaction of being part of a cohesive group - either all playing the same thing, or else meeting the challenge of layering up complex rhythmic patterns.
It seems to me that the rhythm of the drum calls to something deep within our unconscious.
(Bagpipes, played well, also do it for me - but not for everyone!)