He's bought himself a Dremel.
Wos' one o' they?
It's a sort of rechargeable rotating thingy which you can fix different ends to for sanding and drilling and cutting and grinding and whatever else. The model-maker's dream tool.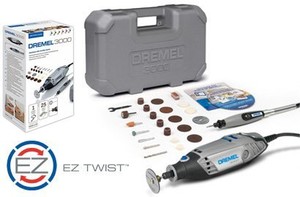 And as a consequence the first item on the long, long, long list of "Things To Be Done Now That I Have Retired" has been completed, and was much, much easier than it might have been:
Our letterbox has been spring-less for a Long time now, flapping in the breeze, letting in cold air.
Replacing it appeared, at first sight, to be incredibly simple. Homebase still stock the identical one, after all these years since we last replaced it.
Sort of. The casting is just a little different on the back, meaning that the holes for the fixings were in just a slightly different place.
That's just how every DIY task in this house has gone, every time, throughout the 30 years we have lived here. But for once, he had the right tool for the job; enlarging the holes, and then trimming off the sides of the washers and the ends of the bolts once everything was in position took far less time than it might have.
The front of the letterbox looks good too. Guess what's next on the list...